Your Favorite Marquis Drink: Super Berry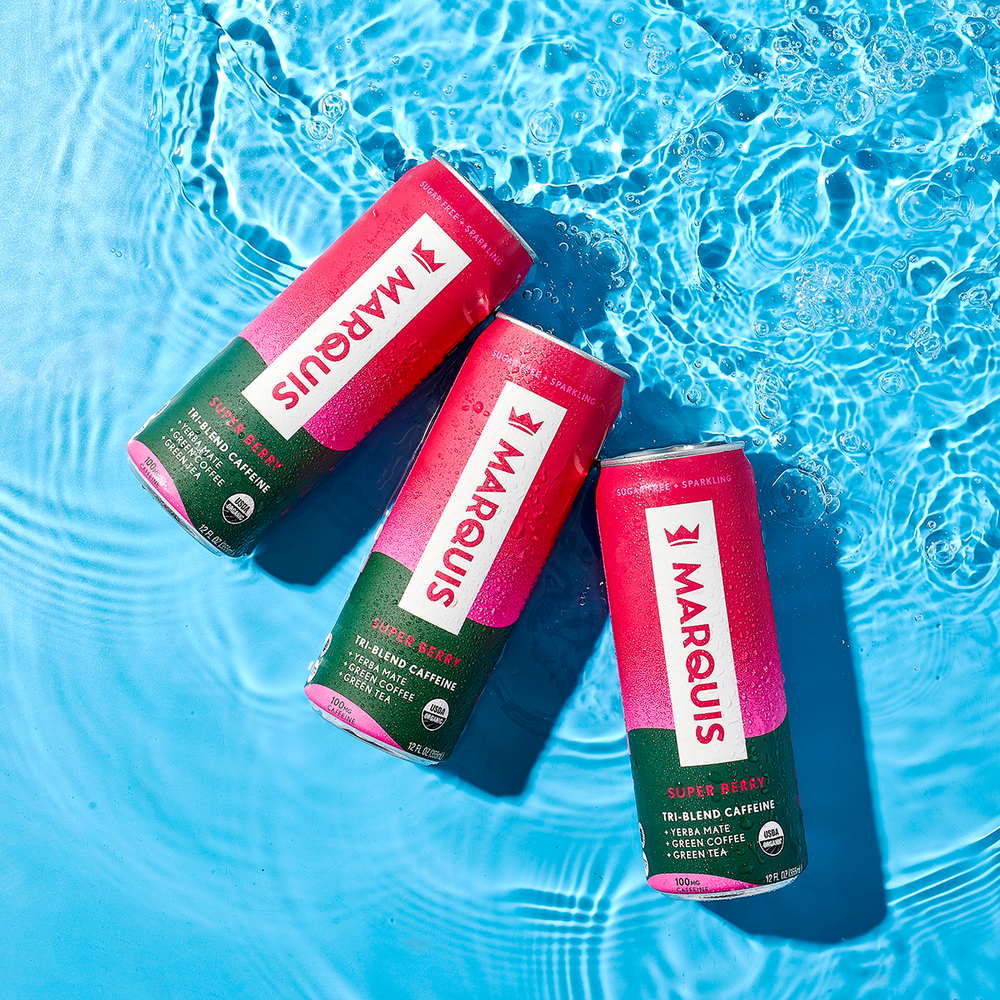 5 min read
… Are we right? 
The Super Berry Marquis drink has been there since the beginning, and its ultra-refreshing, deliciously fruity taste has quickly transformed it into a bestseller. 
Like all good parents, we can't choose a favorite Marquis drink flavor. However, we can say that Super Berry has 152 5-star reviews online. And if you've taken a sip, then you've probably figured out why…
However, if you're still a Super Berry virgin, don't worry. We're explaining everything you need to know about the flavor in today's blog post:
What is Marquis Berry Made Of?
So, first things first: what is it? Strawberries, raspberries, blueberries, blackberries – plenty of potential concoctions could give these Marquis drinks their flavor. 
Our drink is made with the flavor extracts of our favorite berry: raspberries. That sweet and slightly acidic taste (combined with lemon juice) gives these Marquis drinks an irresistible flavor that will probably remind you of your childhood. 
Except – and here's the catch – they have absolutely nothing bad for you! Check out what we mean: 
Organic Yerba Mate.

Part one of our tri-blend caffeine is Marquis yerba mate extract. Aside from offering a mental boost, yerba mate is loaded with antioxidants and nutrients.

Organic green tea extract.

Green tea is part dos of our tri-blend caffeine. Again, this caffeine source offers healthy bioactive compounds and antioxidants and can

improve brain function

. 

Organic green coffee.

The third aspect of our tri-blend caffeine, green coffee, comes from the unroasted beans from coffee fruits. Green coffee beans contain more chlorogenic acid than their roasted counterparts, which is linked to numerous health benefits. 

Carbonated filtered water.

Because what energy drink alternative doesn't need a little fizz? 

Organic lemon juice (concentrate).

Lemon juice concentrate gives this drink a delicious raspberry lemonade-esque feel. You feel? 

Organic raspberry flavor.

All our flavor extracts come from REAL plants. Why? Well, real flavor is better flavor… that's our philosophy anyway. 

Organic erythritol.

For those who might not know, erythritol is a naturally occurring sweetener that is derived from non-GMO corn. It has about 70% of the sweetness of real sugar yet 0% of the calories. 

Organic monk fruit extract.

This sugar alternative is 100-250 times sweeter than traditional sugar yet has zero calories. It also has anti-inflammatory properties and can help your body fight cancer. 
Of course, each of our Marquis beverages also contains our proprietary vitamin blend. We'll circle back to that later.
What Does Super Berry Taste Like? Does it Have an Aftertaste?
So, we mentioned that this Marquis drink will remind some folks of their childhood. That's because this delicious, berry-infused energy drink alternative has a mouth-watering taste that mimics that of crisp raspberry lemonade. 
So, you might have noticed how more and more energy drink companies are creating healthier versions of their products. As a result, naturally occurring sugar substitutes are on the rise. While these substitutes are great health-wise, they'll oftentimes produce an odd, syrupy aftertaste. 
We don't know about you, but we aren't fans. That's why we made sure our drinks leave nothing but a pleasant taste in your mouth. 
Using only organic and clean ingredients, when you drink Marquis, you should feel good about what's going into your body. Rest assured that the flavorful, sugary taste you're experiencing is a) not sugar b) not chemically induced and c) won't leave that fake-sugary taste in your mouth.
Benefits of Super Berry
Here at Marquis, we like to say we provide caffeine with benefits. What that means is that our drinks will give you the gentle energy boost your pre-workout or post-meeting requires, and they'll provide some vitamins and nutrients along the way. 
Wondering what sets Marquis beverages apart from other "healthy" energy drinks? Well, we only use organic, naturally occurring, and zero-calorie sweeteners in our drinks. (AKA no sugar crashes, aftertastes, or dental visits required.) 
However, that's not all. Earlier, we mentioned our proprietary vitamin blend. We infuse each of our healthy energy drinks with: 
Ascorbic Acid [Vitamin C]

Niacinamide [Vitamin B3]

Calcium-D-Pantothenate [Vitamin B5]

Pyridoxine Hydrochloride [Vitamin B6]

Cyanocobalamin [Vitamin B12]
That means that a single can of the Super Berry Marquis drink will supply: 
100% of your daily dose of Vitamin C

100% of your daily dose of Vitamin B3

100% of your daily dose of Vitamin B5

100% of your daily dose of Vitamin B6

250% of your daily dose of Vitamin B12
And it does so using:  
Zero calories

Zero grams of total sugars

Zero grams of net carbs

Zero grams of total fat

Zero milligrams of sodium 
 …Ready to give it a go?
Best Berry Cocktails
One of our favorite ways to drink Marquis is as a mixer. A night out on the town all too often means ingesting way too many empty calories and feeling horrible the next day. However, ditching the soda and using our drinks as mixers is a healthier (and less hangover-inducing) way to get your buzz going. 
If you've got some leftover Super Berry flavor, you can use it to make a Marqini Fleur. All it takes is two parts vodka, one part St. Germain, and four parts Marquis Super Berry. Garnish with some fresh lime and voila – this healthier twist on the classic martini will appeal to more mainstream tastes. 
If martinis aren't your thing, try whipping up a Marqhattan. Combine two parts bourbon with three parts Marquis Super Berry and one part sweet vermouth. Then, garnish with a dash of Angostura bitters to complete our version of the cornerstone of the craft cocktail scene. Note that this cocktail should always be served cold over ice. 
Interested in more berry cocktails? Rest assured that there's plenty to choose from in the Marqology section of our website. Go peek, then drop your favorites in the comments section of this post.
Caffeine Without the Coffee Crash
There is such a thing as too much caffeine (check out this post). That's why drinking coffee is commonly associated with a caffeine crash. If you've experienced one, then you know that the symptoms of a caffeine crash aren't great. That's why our drinks provide a gentle lift without the crash. 
How do we manage that? Well, our tri-blend caffeine is the reason. Our formula intentionally provides 100mg of caffeine, which is the perfect amount to supplement your energy needs throughout the day. 
Ready to see for yourself? Try Marquis Super Berry today.  
Sources