Marquis Super Berry
Over 40% of daily caffeine drinkers are consuming an amount over the daily recommended dose.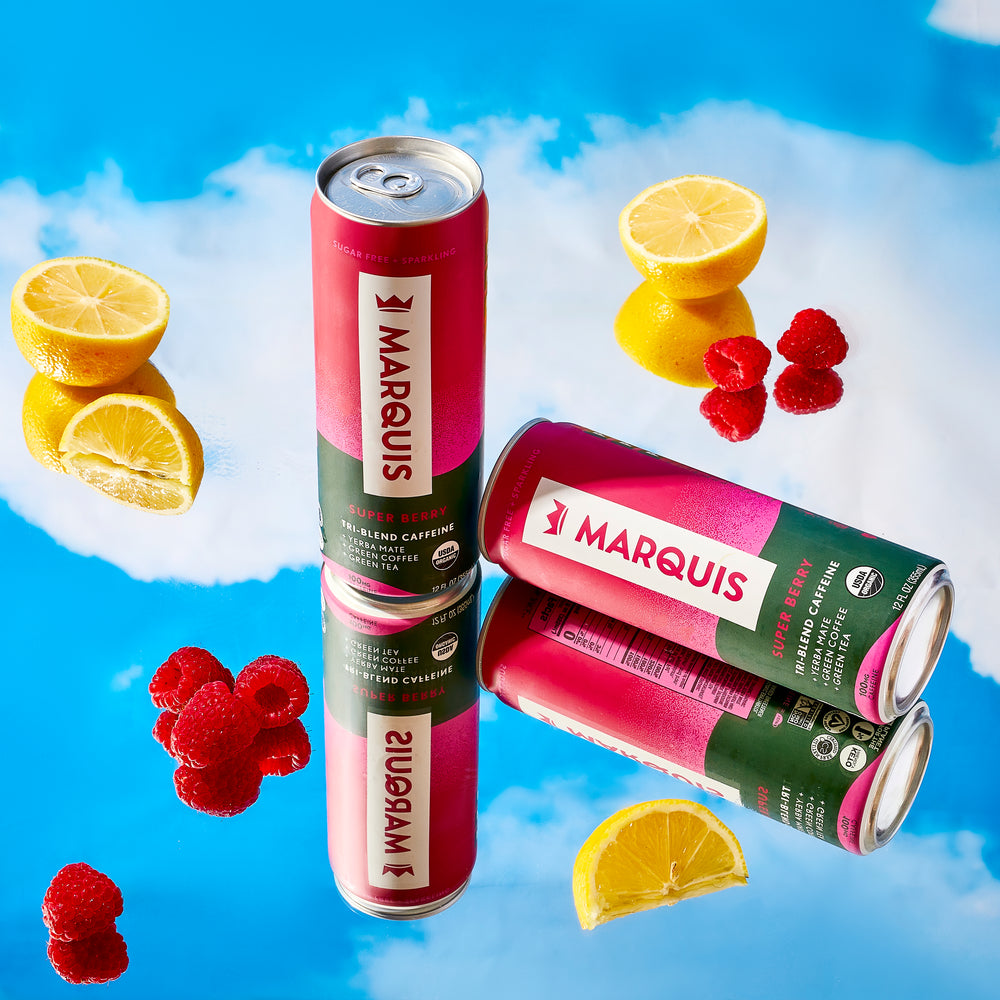 You may have stayed up a little too late on a weekday or have been hit with an unimaginable amount of work that seems to have no end in sight. Sometimes a small moment of bliss can reinvent your mood, giving you an extra boost to tackle your day!
Sweet, smooth, energizing, meet Super Berry, your favorite new rough day savior! Let's dive inside the bottle to show you why!
Real Raspberry
Raspberries are one of our favorite fruits. Their unique, soft texture makes them melt into your mouth - an amazing sensation for a hot summer day. 
Fun Fact: Raspberries actually belong to the rose family! 
There are many different types of raspberries (black, red, purple, and even golden!), but you are probably most familiar with the red raspberry. 
Marquis Super Berry is sweetened with the bright flavor of raspberry. Although our organic raspberry flavor doesn't hold nutritional value, we've rounded up fun facts to remember next time you're wondering which fruit to snag from the farmer's market.
Raspberry Breakdown
Raspberries are packed with a ton of nutrition.
Why? We are glad you asked. 
Rich in vitamins, antioxidants, and fiber, raspberries are more than just a delicious fruit. 
According to the USDA, raspberries are an excellent source of:
Vitamin C and B

Manganese

Dietary Fiber 

Folic Acid

Copper

Iron
Raspberries also have the highest concentration of antioxidant strength amongst all fruits! This is due to their high concentration of ellagic acid, anthocyanins, gallic acid,  and other antioxidant properties. 
On top of that, raspberries rank among the highest fiber-rich plant foods as 20 percent of the berry's total weight is fiber! 
Raspberry Health Benefits 
With this nutritional line-up, raspberries have the potential to benefit your health! 
Snack for Your Unique Diet! 
Raspberries are naturally high in fiber while being low in calories and carbs. This can make them an ideal snack for those on the keto diet or those looking for low-calorie, weight-loss foods! 
The fiber content supports weight loss by reducing the number of calories absorbed while making you feel more full! Fiber also helps keep bowel movements more regulated.  
Super Skincare 
Raspberries are rich in Vitamin C, a superstar ingredient when it comes to skincare! Vitamin C is used as an anti-aging ingredient, reducing age spots and discoloration. 
Natural Energy Drinks
Just because an energy drink looks healthy doesn't mean it is. We took healthy energy drinks to a whole new level! Marquis is the only drink that uses a blend of three powerfully energizing ingredients to deliver 100 mg of Organic caffeine. 
We created the ultimate best energy drink with a blend of Yerba Mate, Green Coffee, and Green Tea. Each ingredient in a can of Marquis is key in providing a balanced lift. Let's break it down for you. 
Yerba Mate 
Yerba Mate might not be new to you, especially if you caffeinate regularly. Yerba Mate is a crucial ingredient in our formula! Yerba Mate's caffeine content averages at about 80 milligrams of caffeine! Yerba Mate is stimulating but soothing all in one. Yerba mate flavor pairs amazingly well with the sweet undertones of raspberry! 
Green Coffee
You might not be familiar with "Green Coffee." Green coffee beans are coffee seeds (beans) of coffee fruits that have not yet been roasted. The roasting process reduces the amount of chemical chlorogenic acid, an antioxidant that is the root of coffee's health properties. Plus, green coffee contains about 20 milligrams of caffeine.
Green Tea
Green tea is packed with antioxidants, making it a staple in any healthy routine. 
A cup of green tea contains somewhere between 20 and 50 mg of caffeine, but this can vary on how it was brewed and the type of tea.
Zero Sugar
Just because it's healthy doesn't mean it has to taste like it. Along with using the best quality ingredients, we leave Marquis sugar-free. Don't worry - Marquis still tastes pretty sweet!
We used stevia leaf extract to sweeten every can of Marquis. Stevia is almost 100 times sweeter than regular sugar. Just a pinch of Stevia is equal to about one teaspoon of regular table sugar.  We use Rebiana A 98%, a high-quality strain of stevia, to ensure the healthiest way to achieve a great taste!  
Bartend With Super Berry
We created a bar menu curated with yummy, guilt-free cocktail mixers. Sugar-free cocktails can make happy hour worry-free! Marquis makes flavor and energy easy - no bartending license required. 
Let Marquis Super Berry transform your next cocktail endeavors. Super Berry is a delicious swap for sugar-filled juices or soda. Its light notes of raspberry pair well with any spirit! 
Marqato
The new Bellini! Mix Super Berry with Moscato wine for a healthier and yummier bubbly. Super Berry pairs perfectly with the light-bodied and sweet Moscato. Whip up a Marqato for Sunday brunch or the perfect date night spirit.
Ingredients: 
How-To: 
This cocktail is as simple as it gets. Grab your favorite champagne glasses. Pour in Moscato, add the sweet carbonation of Marquis. Throw in some raspberries for garnish and a sweet snack! Cheers!
You're Berry Welcome
We took our time selecting the best ingredients to create the magic of Marquis, from the caffeine to the crave-worthy flavors. All you have to do is crack one open when you need it! 
Super Berry isn't your thing?
Try our other refreshing flavors like Mango Ginger or Citrus Yuzu!