A Guide to How Sugar and Alcohol React | Drink Marquis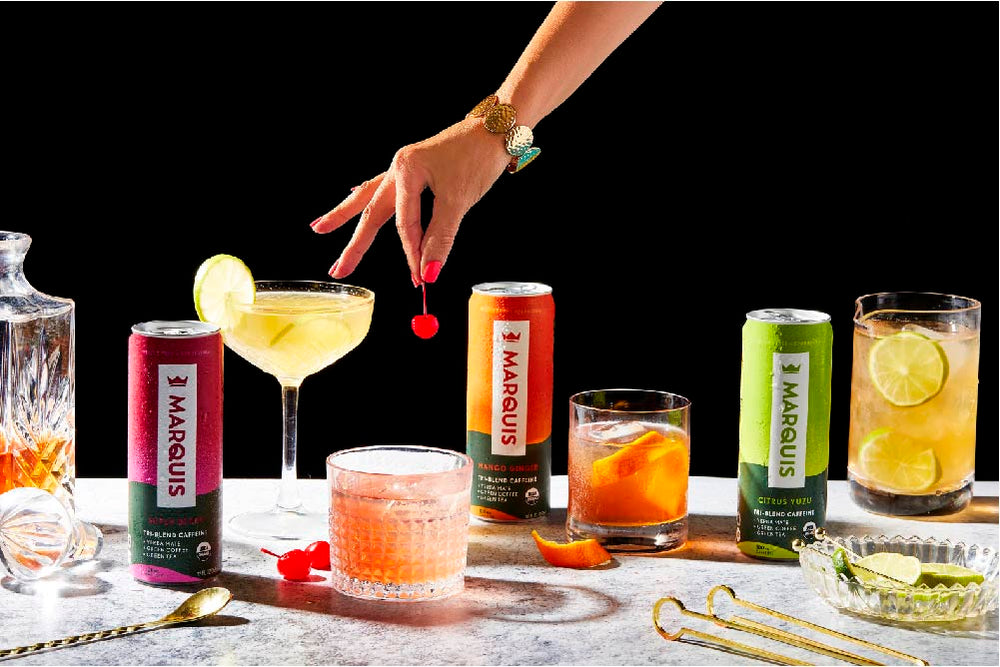 8 min read
Playing bartender is fun, especially when you can bring something new to the table. When formulating your must-drink cocktail - don't waste calories on a sugary mixer. A zero-sugar mixer can make your Happy Hour guilt-free, making it a healthier option than your usual booze pleasure. 
A mixed drink of alcohol and sugar isn't always the best, as it can give you a painful hangover and leave you dehydrated. Instead of regular sugar, you can choose an alternative artificial sweetener for your alcoholic drink to help you feel the buzz quicker without getting too dehydrated, and it's fewer calories.
Keep reading to discover why sugar-free is better for you, and learn about sugar and alcohol reaction! Plus, we've rounded up our favorite sugar-free cocktails for you to add to your Happy Hour menu. 
Why Sugar-Free?
Sugar (or sucrose) is extracted from sugar cane and sugar beets that have been mostly grown in tropical climates. Just one teaspoon of sugar contains 15 calories in the form of carbohydrates with no other nutrients. It is very easy to over-serve yourself sugar… one cookie can quickly turn into three.  
The American Heart Association recommends no more than 100 calories a day from added sugar for women. And 150 calories a day for men. Overconsumption of sugar can lead to serious health problems in the long run, like heart disease, diabetes, and obesity. 
If you have a sweet-tooth, there are other options to get your fix. Using a sugar substitute like Stevia can reduce this sugar calorie overload! 
Sugar Makes For A Mean Hangover
Some hangovers are way worse than others! If you have ever experienced a bad hangover you will probably do anything to prevent it from happening again. Many people don't know your hangover experience has a lot to do with sugar. Sugar and alcohol both cause dehydration - a big influence on how bad you hangover will play out! Plus, both need to be processed by the liver!
When you combine both sugar and alcohol, it will give you a much worse hangover than just drinking alcohol alone! That's the sugar and alcohol reaction. If you want to avoid a rough next day, opt for a sugar-free mixer in your alcoholic beverage, like Marquis. Another rule of thumb: follow up every drink with a glass of water to stay hydrated and flush out your body! 
Sugar-Free Makes A Strong Drink
The added bonus to sugar-free cocktails: they make you feel the buzz faster. An assistant professor of psychology at the University of Kentucky, Cecile A. Marczinski, researched this phenomenon. 
In Marczinski's study, 16 volunteers drank vodka mixed with regular lemonade, diet lemonade, or a placebo over three separate drinking sessions. The volunteers who drank the sugar-free drinks showed their breath alcohol on a breathalyzer was up on average 18% higher than the participants that drank regular vodka lemonade! The study concluded an artificial sweetener in diet mixers increased how quickly alcohol hits the bloodstream. So, you won't need to drink as much of a sugar-free cocktail to feel the booze. 
We recommend always practicing safe drinking! You know the drill: eat before you drink, pace yourself, and don't forget to drink water with alcohol consumption.
Sugar-Free Cocktails
Ready to impress your friends with a tasty (and healthier) cocktail? Try these Marquis cocktail recipes with the key ingredient of Marquis - a unique blend of yerba mate, green coffee, and green tea, then sweetened with stevia. Each ingredient plays a vital role in balancing your energy, giving you an extra lift in your cocktail.
Kentuquis Mule
Elevate the classic mule! This fizzy, refreshing cocktail is perfect for an afternoon boost. This cocktail is super simple, making it perfect for those of us who are procrastinators. Plus, we added our own twist. Two words: Mango Ginger.
Ingredients
How To:
Fill a copper mug with Bourbon and Marquis Mango Ginger. Then add ice. 

Squeeze in your desired amount of lime. 

Enjoy! 
Pro-Tip: We recommend using a copper mug for any mule. Why? The copper lining in the mug helps enhance the taste and aroma of the drink as copper is oxidative. Make sure to show off this fact when passing out the Kentuquis Mule. 
Marqosmo
Carrie Bradshaw would approve of this take on the classic big-city drink! We used the zero sugar, Marquis Citrus Yuzu, to elevate this cocktail. You'll feel super chic sipping on this one (even if you are in full PJ's on the couch watching Sex and The City).
Ingredients
How To:
Fill a cocktail shaker with vodka, cranberry juice, and Marquis Citrus Yuzu. 

Grab your Instagram worthy cocktail glass and fill it with this new yummy mixture! 

Garnish with lime, edible flowers, or fruit - you decide! 
Marqini Fleur
James Bond fan or not, this twist of a traditional martini is sophisticated and tasty too! With the added sweetness of Marquis Super Berry, this 007-inspired drink just got a little more fun and approachable.
Ingredients
How To:
We prefer this one stirred, not shaken (unlike 007). Add desired ice to your fancy martini glass. 

Add Marquis Super Berry, St. Germain, and Vodka. 

Squeeze lime juice. And stir!
These sugar free alcoholic drinks are great for when you're wanting a little buzz without the dehydration accompanied with something like a mixed drink of sugar and alcohol.
The Ultimate Sugar-Free Mixer
Just because a mixer is sugar-free does not mean it's healthy! Not all sugar-free mixers are created equal. Marquis is packed with antioxidants that all come from our one-of-a-kind blend of Yerba Mate, Green Coffee, and Green Tea. Finally, an energy drink you aren't scared to check the nutrition label! 
Our blend of caffeine can give you a boost to get over that after-work slump so you can enjoy the night with uplifted energy! Each can of Marquis contains 100 milligrams of plant-based organic caffeine. It can help you take on the night or day, without the jitters and sleepless nights. You can still enjoy your alcoholic drinks without the painful hangover of combining alcohol and sugar.
Marquis plant-based blend of caffeine is the perfect way to spice up any drink with our unique flavors.
Check out our flavors
and get your mix
on
.