Does It Matter Where Your Caffeine Comes From – Part 2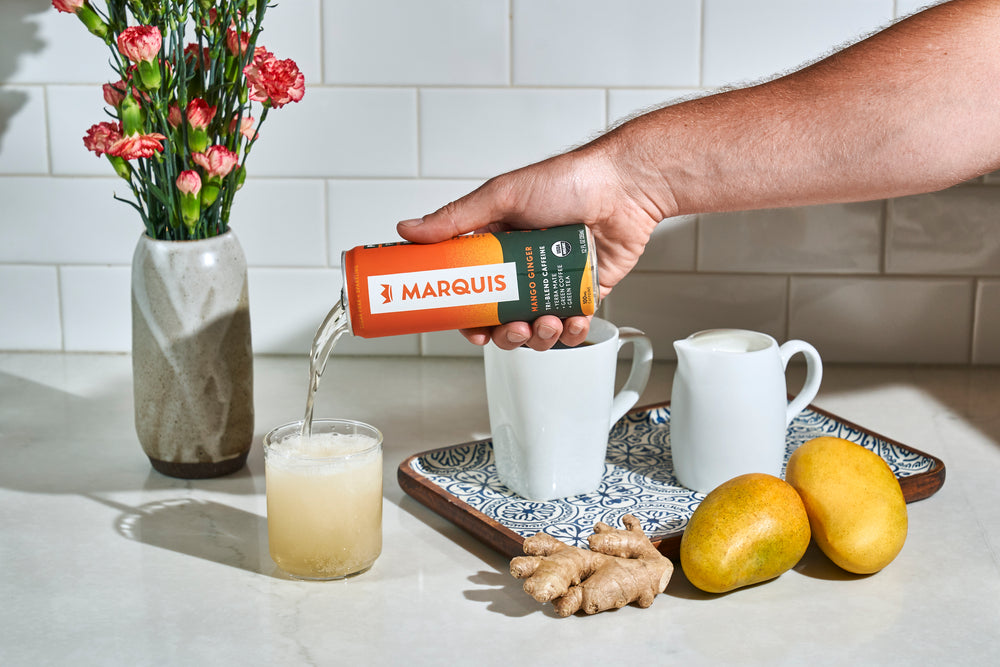 5 min read
By: Danielle Rath, Caffeine Scientist, GreenEyedGuide
Humans have been drinking caffeine for centuries now, but that doesn't mean we've got caffeine's effects all figured out. Thanks to decades of research, we know how much caffeine is generally considered safe to have in one day for the healthy adult. However, "safe" and "satisfied" are two different things. In other words, even if you live and breathe caffeine science (like this author), the truth is every person responds to caffeine a little differently. Finding what really gets you pumped and motivated is what makes sampling different caffeinated drinks so fun. 
In Part 1 of this series, we discussed three helpful tips for picking where and how to get your caffeine. With so many different options for caffeine available, those three tips can help find the drink that's right for you. For those who want to take their relationship with caffeine to the next level, here are three more tips.
If you haven't read Part 1, now is a good time to do that. Does It Matter Where Your Caffeine Comes From – Part 1
If you're ready to Level Up your caffeine routine, here are three more tips.
TASTE IS KING, QUALITY IS QUEEN
The number one reason people choose the energy drinks they do is taste. Not price (though that isn't far behind), not brand loyalty (though again, not too far behind), it's taste. Does the product taste good? If so, people will buy it more than once. 
But what about that first purchase? How can you tell before you buy it if a drink will taste good?
You can start by looking at the source of the caffeine. Is the caffeine from coffee? Tea? Another plant like yerba mate?
You can make an educated guess how a product will taste by looking at where the caffeine comes from. But that's just the first clue. The product label can tell you even more. For example, looking at a label of Marquis, you'll read that Marquis (Mar-KEE) doesn't taste like coffee or tea. That's because the tri-blend of yerba mate, green coffee beans, and green tea is carefully calibrated so neither the coffee beans nor the tea taste is overwhelming. Say "goodbye" to the bitter tannins of green tea and the earthy mate taste. Instead, the tri-blend of green coffee, green tea, and yerba mate sings a harmonized chord in the background, allowing the delicious blend of flavors to come front and center. 
Taste is king. 
And Quality is queen. 
Pure and simple, when a product has high quality ingredients, it's going to taste better. And that taste is going to be consistent, meaning you know what to expect every time. The importance of quality ingredients is why Brand Loyalty is such a big deal. When you decide where to get your caffeine, you should be able to trust the brand and know what to expect from the drink. Quality equals trust.  This is how caffeine source, taste, and quality all go hand in hand.
WHAT ABOUT THE OTHER INGREDIENTS?
In Part 1, you learned there is no difference between natural and synthetic caffeine. Okay, but then why do you feel so different? 
Because of the other ingredients.
For example, even if the caffeine is the same, a drink with more sugar will probably make you feel different than a drink with no sugar. The American Heart Association recommends limiting added sugars to no more than 6 percent of calories each day. For most American women, that's no more than 100 calories per day, or about 6 teaspoons of sugar. For men, it's 150 calories per day, or about 9 teaspoons.
Consider how different you feel when you drink tea compared to coffee. Caffeine content aside, you feel different thanks to the cast of supporting characters. L-theanine may provide anti-stress effects by increasing your brain's alpha waves, which help you calm down and relax. Tea has L-theanine, coffee does not. When you pick an energy drink with caffeine from green tea, you're not just getting the caffeine, you're also getting some of that L-theanine in the green tea extract, too. 
What about energy drinks? Unlike hot coffee and tea, energy drinks often contain B-vitamins. Vitamins can irritate an empty stomach, which means you might feel different drinking an energy drink compared to a cup of coffee, even if the caffeine content is exactly the same. 
SAFETY IN NUMBERS
Regardless of where it comes from, too much caffeine is too much caffeine. 
Okay, so how much is "too much" again? 
For reference, one 8 fluid ounce cup of home-brewed coffee has approximately 100 mg of caffeine. Health authorities recommend healthy adults consume less than 400 mg of caffeine per day – which works out to about four cups of coffee per day. 
When it comes to caffeine, MORE is not BETTER. 
The trouble with extra-large coffees and extra-strength energy drinks is they can pack your whole days' worth of caffeine into one container. Health authorities recommend consuming less than 200 mg of caffeine per occasion/sitting. 
BOTTOM LINE
It DOES matter where your caffeine comes from. Even though your body can't tell the difference between synthetic caffeine and natural caffeine, you mind can tell. When it comes to caffeine, Pavlovian influences and placebo effects are a big deal. For example, a group of students did better on a test when the smell of coffee was pumped into the exam room. People associate coffee with studying and cognitive performance. Thus, the researchers theorized that this mental association led to the mental boost.  That means whenever you pick an energy drink or other caffeinated product, your brain is already making assumptions about how you're going to feel.
When you're deciding where to get your caffeine, remember these tips:
Pick products with less than 200 mg caffeine per container

Pick quality products you can trust, from brands you want to support

Consider the other ingredients (meaning what, besides the caffeine molecule is in the drink)
No matter what you pick, it should be a product that tastes good and makes you FEEL good about drinking it. 
Sources
https://bmjopen.bmj.com/content/6/10/e010380
https://www.google.com/url?q=https://www.heart.org/en/healthy-living/healthy-eating/eat-smart/sugar/added-sugars&sa=D&source=docs&ust=1659745980360891&usg=AOvVaw0GK03O5svKcZ_QVt26Ev9X
https://www.ncbi.nlm.nih.gov/pmc/articles/PMC4787341/
https://health.clevelandclinic.org/get-nauseous-after-taking-vitamins-6-tips-to-make-them-easier-to-stomach/
https://www.efsa.europa.eu/en/efsajournal/pub/4102
https://www.sciencedirect.com/science/article/abs/pii/S0272494418302615