Does It Matter Where Your Caffeine Comes From – Part 1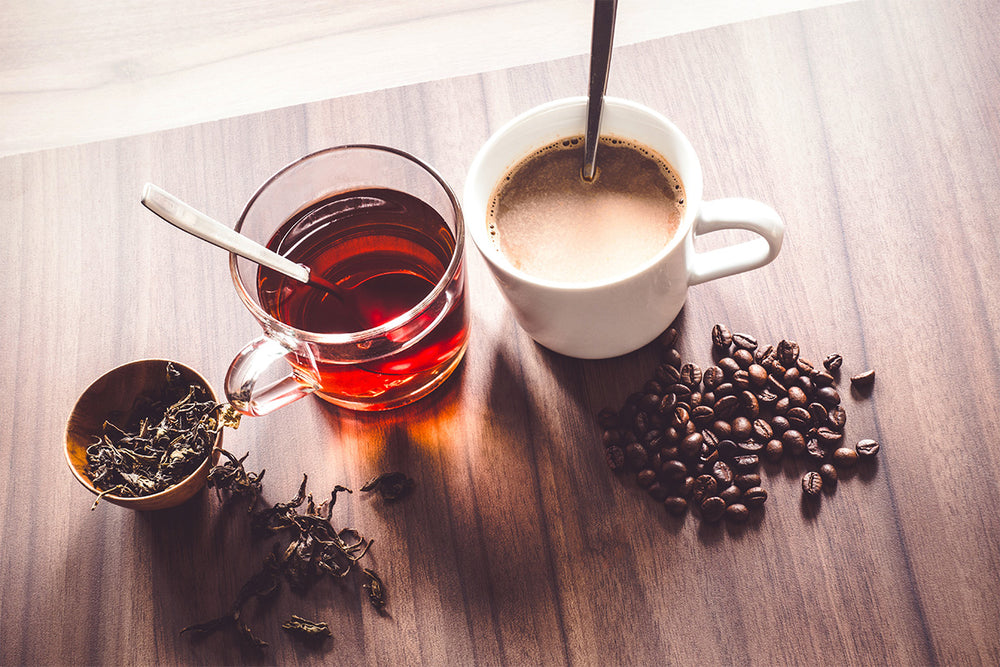 5 min read
By: Danielle Rath, Caffeine Scientist, GreenEyedGuide
Coffee. Tea. Guarana. Guayusa. Yerba Mate. These days there are a wide variety of caffeinated beverages and several different sources of caffeine to choose from. But does it matter whether the caffeine is made in a lab or extracted from a plant? And what difference does it make whether the caffeine comes from one plant or another?  The short answer is yes, it does make a difference. But not in the ways you might expect. 
According to a 2014 study by Mitchell et. al., 85% of the US adult population consumes at least one caffeinated beverage per day, with coffee, tea, and soda as the top 3 most predominant sources. However, the energy drink market is rapidly growing. Mintel predicts Energy to be a top growth category over the next 5 years. In fact, the Energy category is expected to continue driving beverage sales more than water, soda, and coffee. Over the next 5 years, the Energy category will contribute $2 Billion more than carbonated soft drinks to the total beverage growth. 
Ultimately, when it comes to the source of the caffeine, here are helpful tips to keep in mind. These tips are a good starting point to help you find the caffeinated beverage that's right for you.
NATURAL VERSUS SYNTHETIC CAFFEINE
This might come as a surprise, but there is actually no difference between the caffeine that's made in a lab and the caffeine that's extracted from a natural source. Physiologically, biologically, and chemically speaking, there is no difference in the caffeine molecule and thus the effect on the human body is the same. But how can that be? Why does drinking caffeine from coffee feel so different than drinking caffeine from tea, or even an energy drink with caffeine from tea? 
These subtle yet meaningful differences are what we'll explore in PART TWO of this article. But first, we need to consider what it means when caffeine comes from a natural source.
CAFFEINE CONTENT VARIATION
Caffeine content is bananas. No, really, caffeine content in nature is like the shape and size of a banana. It varies. In nature, plants create caffeine so that they don't taste as good to the insects and pests who try to devour them. The caffeine content varies depending on the quality of the soil, the harvesting process, the food processing and manufacturing steps, the brewing method and quality of the water, and other factors. Mother Nature's going to do what Mother Nature's going to do, which means it's not easy to control or predict the amount of caffeine extracted from a natural source. It's easy to measure the caffeine content before that caffeine is added to a product like an energy drink. However, if you're getting your caffeine straight from a fresh cup of brewed coffee or tea, that caffeine content might not be the same every time. 
For example, in one study (McCusker et., al., 2003), the caffeine content of the same 16 fluid ounce specialty coffee ordered from the same coffee shop every day over the span of a week varied from 259 mg to 564 mg!!! That's like ordering a Grande Vanilla Latte every day and one day the barista is magically able to squeeze in an additional TWO CUPS of coffee without you knowing it! It might sound amazing, but that wide variation in caffeine content means one day you might have more caffeine than you can handle comfortably. 
So, if you feel like your cup of coffee just "isn't working" today, it might actually have less caffeine than it did yesterday. As a general guideline, "a standard 8 fluid oz cup of coffee has about 100 mg of caffeine", but in reality, even the coffee made at home might vary based on the beans, the water temperature, the quality of the brewing equipment, etc. 
When it comes to where you get your caffeine, consider whether the caffeine content may vary, and whether you're okay with that. 

TOTAL CAFFEINE CONTENT DECLARATION
When pure caffeine is added to a product, it has to be listed in the ingredients on the food label. However, if the caffeine comes from a green tea extract, for example, the food label only needs to say "green tea" in the ingredients list. This might make it a bit tricky to realize when there's caffeine in a drink. Fortunately, most energy drink labels list the Total Caffeine Content, usually somewhere around the Nutrition Facts Panel and Ingredients List. This Total Caffeine Content declaration usually account for the total amount of caffeine, from all sources, per serving and/or per container. Some products, like ready-to-drink coffee in a can, might not list the caffeine content because the caffeine is coming from a natural source – coffee. Other products, like Marquis, verify the caffeine content of the green coffee beans, green tea, and yerba mate during the manufacturing process. That way, the Total Caffeine Content declared on the label matches what's in the can. 
When it comes to where you get your caffeine, look for the Total Caffeine Content declaration on the label. Opting for products which do have this caffeine content declared can help you make more informed decisions and manage your overall caffeine intake.
TL; DR
Next time you're deciding between caffeinated beverages with different sources of caffeine, remember these three tips: 
Caffeine from a natural source and caffeine synthetically produced has the same effect on the human body

Thanks to Mother Nature, caffeine from a natural source varies in content just like the size of a banana

Not all caffeinated products declare the total caffeine content on the label. Products that do include this information might be better options if you're trying to monitor your caffeine intake
Stay tuned for the next edition, where we'll dive even deeper into the differences between caffeine sources. 
Sources
https://pubmed.ncbi.nlm.nih.gov/14607010/