The Ugly Truth About Your Favorite Venti Starbucks Drink. How much is too much caffeine?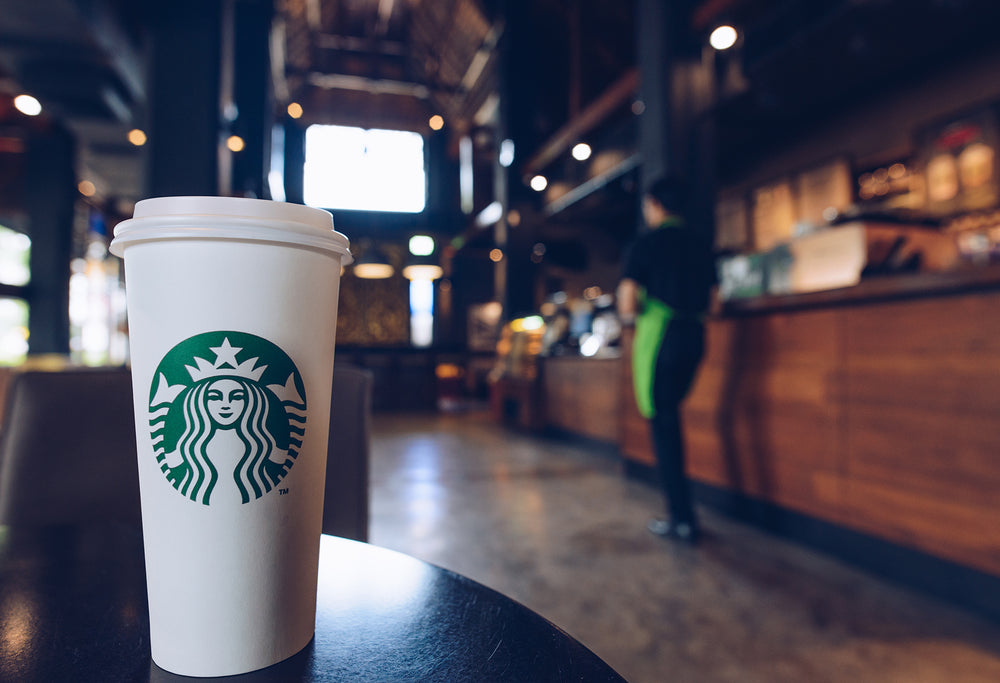 3 min read
Hey there, coffee adventurers and caffeine aficionados! If you've ever wandered into a Starbucks and found yourself in awe of the menu's endless options, you're not alone. From the classic Caramel Macchiato to the bold Pike Place Roast, Starbucks has a magical way of turning coffee into an art form. We like to give credit where it is due. But let's dive deeper into the world of venti-sized drinks, caffeine highs, and sugar crashes.
Venti Caffeine Craziness
Imagine sipping from a cup that holds as much liquid as a small fish tank. Well, that's what you're signing up for with a venti Starbucks drink. But here's the kicker: that delicious liquid energy might contain more caffeine than you'd expect. A venti-brewed coffee, for example, packs a whopping 410 milligrams of caffeine. That's like giving your brain a turbo boost and drinking your daily allotment all in one serving - more on that later! But just like with great power comes great responsibility, too much caffeine can lead to a jittery journey you never signed up for. We're talking heart racing like you're in a marathon without ever leaving your seat, and late-night staring contests with the ceiling.
Sugar Shockers
Now, we all know coffee isn't just about the caffeine kick. It's also about the velvety syrups, whipped creams, and caramel drizzles that make each sip an experience. But, and it's a big but, all those sweet add-ins can pile up faster than a Jenga tower on shaky ground. Some venti Starbucks concoctions pack more sugar than a candy store! The Caramel Frappuccino and the Iced White Chocolate Mocha can contain upwards of 50 grams of sugar. Sure, you might feel like you're floating on a sugar cloud for a hot minute, but that crash landing is inevitable.
FDA's Caffeine Checkpoint
Just when you thought you had caffeine all figured out, the FDA steps in like a wise old caffeine guru. They've got some guidelines to keep us all on track. For the average adult, 400 milligrams of caffeine a day is the golden limit. That's about four cups of regular joe. But hey, if you're sharing your morning with a tiny tot or you've got a medical condition in the mix, you might want to pull back a bit. Remember, these guidelines are like guardrails on the caffeine highway – they're there to keep you safe.
Caffeine Calamity: The Truth About Too Much Caffeine
Okay, so we've established that too much caffeine isn't the best way to spend your day. Sure, it's a thrill to feel like you could run a marathon, but if your heart is beating faster than a hummingbird's wings, it might be time to rethink that second Venti. And let's not even start on the insomnia. Staring at the ceiling in the dead of night, pondering life's mysteries, isn't exactly the dream we're aiming for, right?
Your Caffeine Companion for Balanced Sipping
Now, imagine a caffeine world where you can find your zen without sacrificing the buzz or your health. Enter Marquis, a hidden gem in the world of caffeinated beverages warding off all the bad juju -- caffeine overload, unnatural flavors, and artificial sugars. Think of it as the wise yogi of the caffeine world. While most caffeinated drinks give you enough energy to power a small village, Marquis is all about that balanced buzz. With only 100mg, a fraction of the caffeine found in most caffeine drinks, Marquis gives you a gentle lift without launching you into the stratosphere. It's like dipping your toes into a calm caffeine lake instead of jumping into a jittery caffeine ocean.
And speaking of sipping smarter, let's talk about Starbucks in moderation. Before you swear off Starbucks for good, remember that moderation is the name of the game. An occasional venti treat won't send you into caffeine orbit. But if you're reaching for the venti cup like it's a water bottle at a marathon, it might be time to reign in the caffeine chariot and think of a more healthier alternative, like Marquis, to help cut back on your caffeine intake.
Coffee Control: Tips for Cutting Back
So, you're all pumped up to cut back on caffeine, but you don't want to trade your cup of happiness for a cup of disappointment. We've got your back.
Bean There, Done That & Tea-riffic Alternatives
Not all beans are created equal when it comes to caffeine content. If you're looking to tone down the caffeine thrill, opt to switch things up. Hate to break it to you, but after a while your body knows the single source of a Venti Starbucks all too well. You'll need to trick your body and look for caffeine from a different source. That Marquis idea is starting to sound better and better after all as its source of caffeine comes from a blend of three organic sources: yerba mate, green coffee, and green tea. Not to mention, it makes for a 'tea-riffic' alternative given its tea-based attributes. You know, tea isn't just for British teatime anymore. It's a fantastic way to ease into the world of caffeine moderation.
Set a Caffeine Curfew
Just like Cinderella had to head home before midnight, your caffeine consumption might need to call it quits before the sun sets. Cut off the caffeine faucet a few hours before bedtime to ensure you're not counting sheep until dawn.
The Bottom Line: Sip and Savor Responsibly
So there you have it, caffeine crusaders. Your venti-sized dreams aren't over, but it's time to be a little more mindful about your sips. Whether you're crushing it at work or binge-watching your favorite show, a caffeine roller coaster isn't part of the plan. So go forth, sip smart, and keep that energy steady!