Sugar vs Monk Fruit: Understanding the Differences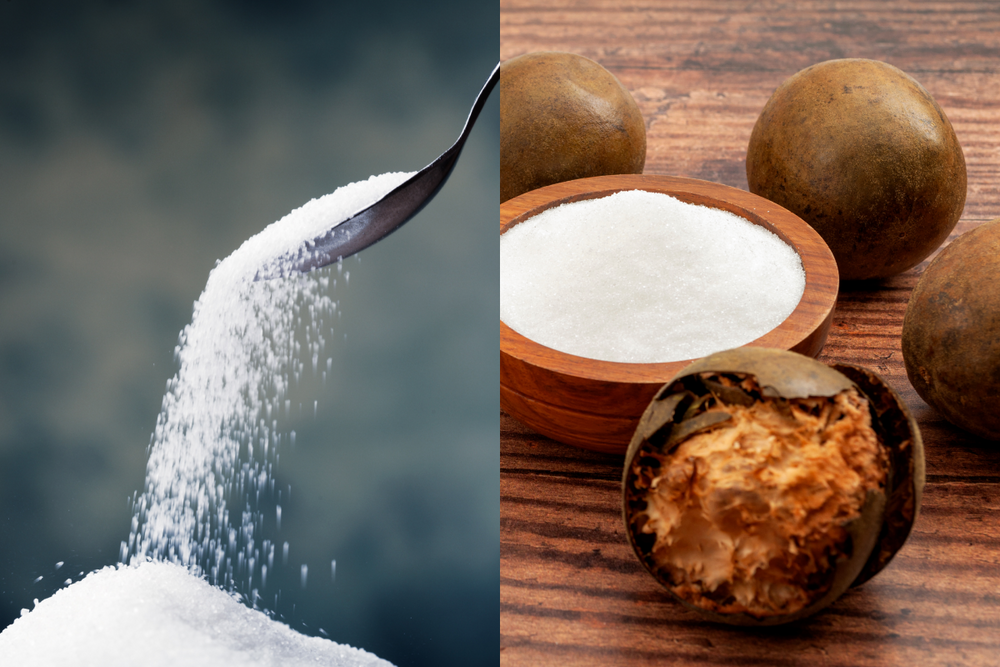 3 min read
Sugar vs. Monk Fruit: The Sweet Showdown
Alright, let's chat about the age-old face-off: sugar versus monk fruit. You know, that debate about what adds the right touch of sweetness to our lives. Sugar's been our go-to sweetener forever, like that trusty friend who's always there to sprinkle a little magic in our morning coffee or that special dessert. But hey, the monk fruit is stepping into the spotlight, claiming to be the new kid on the block. So, let's break it down and see who wins this sweet battle.
Sugar's Charm and Its Quirks
Ah, sugar – the OG sweetheart of our taste buds. It's that natural, sweet stuff that comes from sugarcane and sugar beets. We've been adding it to everything from our pancakes to our favorite drinks. But, let's be real, too much of a good thing can be, well, not so good. Excessive sugar can bring on a bunch of health issues, like extra pounds, dental drama, and even the risk of diabetes and heart troubles. As people start catching onto these downsides, they're on the hunt for alternatives. Enter monk fruit extract.
Monk Fruit: Nature's Sweet Whispers
Ever heard of monk fruit? It's this small, green melon that's like a sweet whisper from nature. The cool thing is, the sweetness it brings is like 200 times stronger than regular sugar. And here's the kicker – it doesn't come with any calories or carbs. Talk about a win-win. The secret sauce behind monk fruit's sweetness is these natural compounds called mogrosides. Oh, and fun fact: traditional Chinese medicine has been hip to monk fruit for ages, praising it for its antioxidants and anti-inflammatory mojo.
The Monk Fruit's Big Break
Around the early 2000s, the monk fruit sweetener started making its move, especially in drinks. By the mid-2000s, the big shots at the Food and Drug Administration (FDA) in the U.S. were like, "Sure thing, monk fruit, you're safe to hang with us." They gave it the green light, deeming it "Generally Recognized as Safe" (GRAS). And just like that, monk fruit extract started showing up in all sorts of goodies, including beverages.
Sugar vs. Monk Fruit: The Scoop
So, let's break down this showdown, shall we?
Sugar: It's that natural sweet stuff, found in plants like sugarcane. You probably know it best as the white, granulated thing you sprinkle on your cereal.
Monk Fruit: Picture a small green fruit from parts of Asia. Its sweetness is turned into an extract by squishing out its juice.
And now, the nitty-gritty differences:
Source and Composition: Sugar brings sweetness and texture to the party. Monk fruit's like the overachiever, sweeter than sugar and packing antioxidants.
Caloric Content: Sugar's got calories (about 4 per gram), while monk fruit extract is practically calorie-free.
Sweetness Level: Sugar's sweet, but monk fruit's got it beat with its supercharged sweetness.
Glycemic Impact: Sugar's like a rollercoaster for your blood sugar, but monk fruit's a smooth ride with barely any impact.
Taste and Flavor: Sugar's your familiar, comforting friend. Monk fruit can sometimes have a slightly different taste, depending on the brand.
Why Marquis Picks Monk Fruit every time.
Alright, let's talk Marquis. We're all about that moderate caffeine kick – just 100mg is plenty for us. The same belief goes for sugar; where zero grams is plenty. Our tri-blend caffeine gives you the lift with just a fraction of the amount of caffeine. And guess what? We're skipping sugar, calories, and those artificial sweeteners. Marquis serves as an alternative to anything at anytime – diet sodas, fancy coffees, healthy en*rgy drinks, and even sugary cocktail mixers; morning, afternoon, and night. Plus, unlike some sugar-free drinks, we bring great taste to the party. Thanks, monk fruit!
So, there you have it, folks. Sugar and monk fruit, duking it out in the world of sweetness. Both have their pros and cons, but if you're looking for that sweet touch without the extra baggage, monk fruit might just be your new best friend.