Marquis in DTLA: A Picnic in Echo Park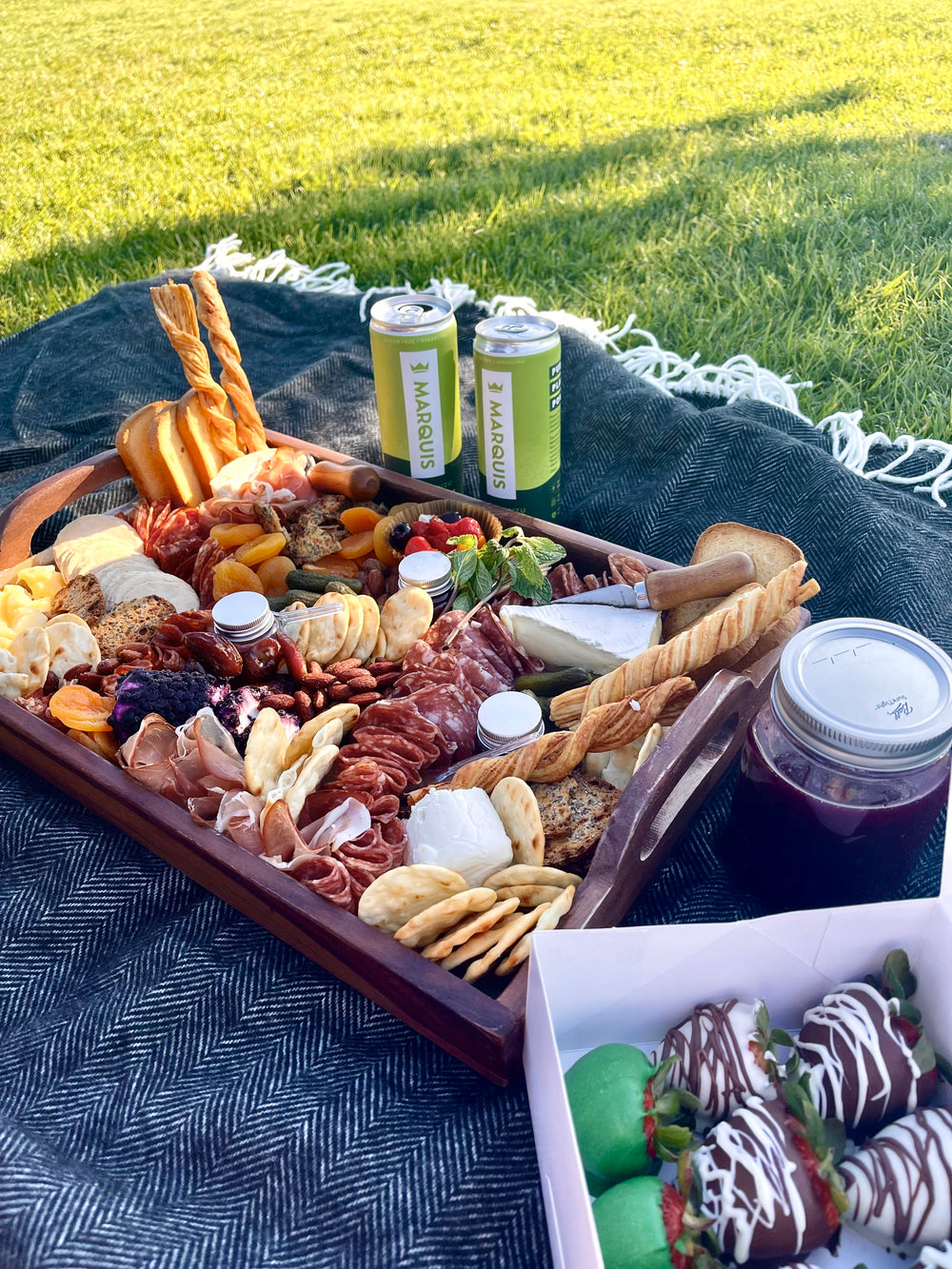 Just 10 minutes outside of hectic DTLA lies the unique neighborhood of Echo Park. What was once a drinking water reservoir is now is newly renovated lake park surrounded by plenty of shops and restaurants that capture the pure urban charm of LA.
Echo Park Lake seemed like an ideal location for a relaxing picnic in the California sun (or shade)! Renovated in 2013, the park features the characteristic lake as well as plenty of birds, lotus flower gardens, and swan-shaped paddle boats. 
Picnic Essentials
One of the great things about picnic planning is that you can make it a simple event or a grand affair. We went with a more simple picnic plan which made it easier to walk along the beautiful lake while still carrying all our essentials.
You can grab a picnic blanket from just about any department store during the summer months. Getting one with a plastic lining will make clean-up easier but, a simple flannel blanket works just fine.
Picnic baskets really help to set the mood and can help you keep everything organized. If they aren't your style, that's fine! Grab a backpack and a cooler bag instead.
Consider bringing some entertainment to your outing. Try to limit your phone-use during your time out and bring books, board games, or even a camera to capture awesome summer memories.
Our Menu
A picnic would be nothing without good company and good food. While you can prepare sandwiches, wraps, and salads for your meal, you can also opt for a lighter meal. Our picnic menu centered around a charcuterie board of assorted meats, cheeses, and fruits. We found this to be a perfect picnic idea that works well for intimate and more formal dates or for larger groups of friends and family.
We finished off our meal with a signature drink from our Marqology cocktail menu, the Marqoto, made with our Super Berry Marquis. You can find the recipe for it here!
Picnic Tips & Tricks
Before you set off to plan your own perfect LA picnic, here are some tips from our Marquis staff:
Check the weather! LA is known for its sunny weather during most of the summer but rain, fog, wind, and lower temperatures are still possible.
LA heatwaves are no joke. To avoid breaking a sweat while trying to have a relaxing day out, plan your picnic for later in the afternoon or early in the morning. A morning breakfast picnic would mean less heat and less crowds while a late-afternoon picnic lets you enjoy the sunset and cool breeze. 
Scope out the location before making your plans. Echo Park is mostly sloped into the lake and not all areas around the lake provide shade. At the very least, we suggest looking at recent pictures online to get a feel for the place.
Eat up: the more you eat, the less you have to carry back with you!
Keep LA clean and pick up after yourself! There are plenty of trash and recycling bins throughout Echo Park's lake area. Make sure to keep the place clean for the next people to enjoy. 
That's it for our Marquis picnic but, be sure to follow @drinkmarquis on Instagram for more summer plans in the City of Angels.