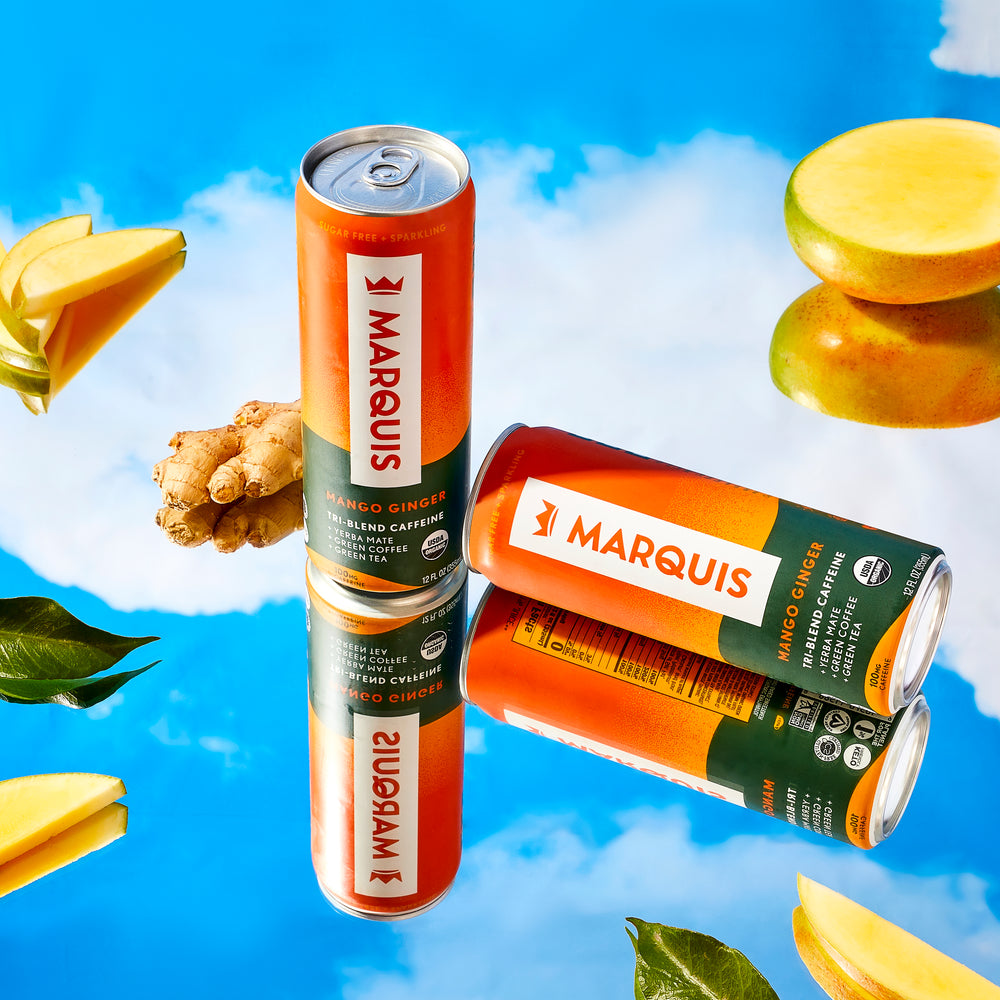 10 min read
Here at Marquis, we love doing things in the most natural way possible. This approach goes all the way down to our signature ingredients--no chemicals or pesticides used. One of our most popular flavors is Mango Ginger, filled with refreshing tropical flavors and a smooth, bold finish. 
Now let's go into why you should always have this simply-made mango ginger drink on hand.
Benefits of Mango
Mangoes are one of the superfoods, that's why we use them. 
Packed with nutrients, vitamins, and minerals, mangoes also contain small amounts of calcium, selenium, and iron. This superfruit even has vitamin C, significantly improving immunity and iron absorption. What more could you want? Here are some of the specifics: 
Antioxidants

- Antioxidants (polyphenols) are essential because they protect your cells from damage, disease, and contain highly reactive compounds that can bind to and damage your cells.

Immune-boosting benefits

- Vitamin A helps a healthy immune system and fights infections; vitamin C supports your immune system. 

Heart health

- contains magnesium and potassium, which help maintain a healthy pulse and allow your blood vessels to relax, promoting lower blood pressure levels. 
Benefits of Ginger 
Ginger is a plant originating in Southeast Asia and celebrated for its healthy nutrients and spice worldwide. It's closely related to spices like turmeric, cardamom, and galangal. 
The root, just below the stem, is the part of the ginger plant that you'll usually find. Here's a bit more about the benefits of ginger: 
Cell damage prevention

- Ginger has high levels of antioxidants that protect your cells against diseases. These antioxidants stabilize free radicals and prevent oxidative stress, thereby protecting the body from infection. 

Anti-inflammatory

- The antioxidants also act as anti-inflammatory properties. When you experience oxidative stress, it can cause inflammation throughout the body, damaging healthy cells and organs.

One study

found that consuming ginger twice a day leads to decreased inflammation. 

Nausea Prevention

- Ginger aids the symptoms of nausea through its gingerol compounds (known for improving gastric motility and help settle the stomach). 
The Unique Blend of Mango and Ginger 
We understand that both mango and ginger have incredible nutritional benefits, so we decided to put them together to create the ultimate sugar-free sparkling yerba mate. 
This powerful and delicious combination delivers smooth, long-lasting energy, vitamins, and antioxidants-- all without sacrificing your health. 
Sustainable Energy 
We harness the power of sustainable energy with natural stimulants from three plant-based ingredients to deliver 100 milligrams of organic caffeine. 
Our blend of Yerba Mate, green coffee, and green tea provides a balanced lift that helps you win each day, without the ups and downs of most caffeinated drinks.
Organic yerba mate -

Improves mental focus, lifts energy gradually, loaded with antioxidants. 

Organic Green Coffee -

Induces weight loss, normalizes blood sugar, improves heart health.

Organic green tea -

Improves brain function, burns fat, and boosts metabolism. 
Zero Sugar 
On average, Americans consume 17 teaspoons of added sugar each day (wow!). 
But just because we are consuming too much sugar, it doesn't mean that low-sugar drinks are good for us. Most of the time, even zero sugar drinks are pumped with artificial sweeteners and preservatives like aspartame. 
The result is mass-produced drinks made inside manufacturing tanks. Inside the tanks, bacteria are fed large amounts of sugar before, well, pooping out aspartame. Weird right? A zero sugar cola drink is made in bacterial feces. 
Not much of a surprise, but aspartame has been shown to cause headaches, depression and other, severe conditions. We don't take this lightly at Marquis--we hold our drinks to a higher standard.
What do we do instead? We use Stevia: a plant native to South America and 100 times sweeter than sugar. This super-plant has no calories and is 100 percent natural. That's why we can use it to create a lovely, fruity-flavored drink full of nourishment and no empty calories. 
Free From Guilt
Just because a drink looks "healthy" doesn't mean that it is. 
The Marquis Mango Ginger is your perfect plant-powered, anti-crash, fruity-flavored, naturally-nourishing drink. Whether it's for your energy boost or an elevated cocktail mixer, this flavor will sustain you with nutrition-packed benefits you need without all the additives you don't. 
Marquis has the power to set you free. Free from sugar. Free from calories. Free from guilt. And, of course, free from fatigue!
Our Favorite Guilt-Free Cocktail 
1 part cognac
1 part Grand Marnier 
2 part mango ginger 
Orange peel 
Served on the rocks 
Be sure to check out our blog here for all the Marquis updates! 
https://www.insider.com/ginger-benefits