Keep Your Summer Cool With These Refreshing Marquis Popsicles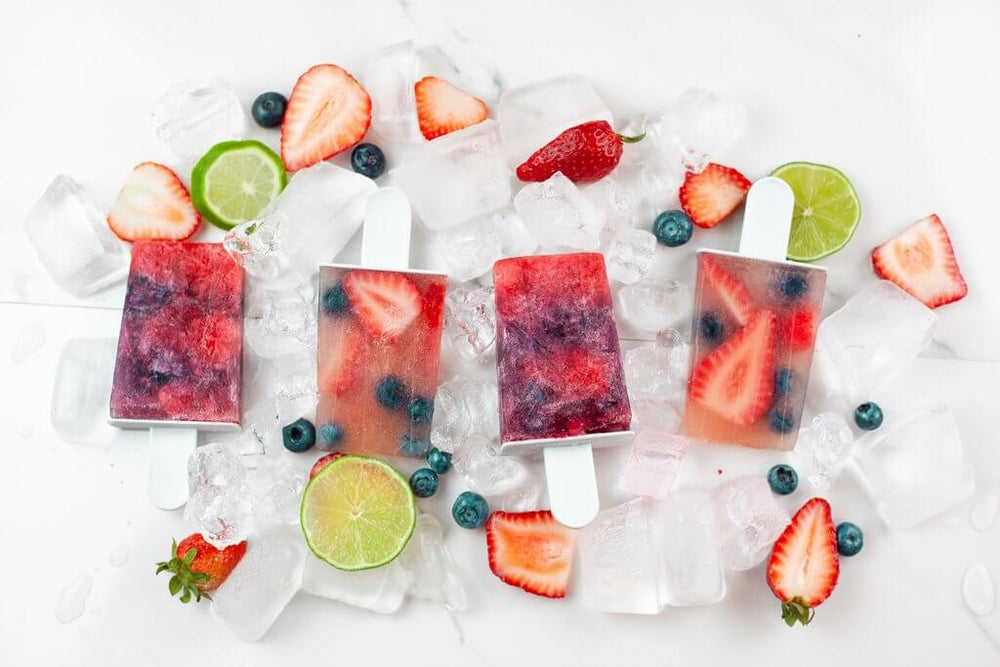 It's midsummer and heat waves are hitting in record numbers. From coast to coast, people are looking for easy ways to stay cool and energized. Look no further because Marquis has the perfect solution for summer fun without the summer heat. 
Whether you call them popsicles, paletas, or ice pops, these frozen treats are the perfect, low-calorie snack for a hot summer day. While you can find a wide variety in any local grocery store, you can also take time to customize and create your own popsicles using fruit, yogurt, or your favorite drinks.
For our popsicle adventures, we decided to use ice cold Marquis (of course), fresh fruit, and coconut water. This recipe is so simple and the results are positively Instagramable and delicious.
We have two different methods to share with you. The first is for those beautiful frozen fruit treats pictured above. You'll only need 5 ingredients for this one: blueberries, strawberries, lime juice, Super Berry Marquis, and coconut water. Cut your strawberries into slivers and halves for the beautiful heart and sunburst patterns in our pops. Keep the blueberries whole to avoid a mess. Add your cut fruit to your dessert mold. The amount of fruit used depends on the size of your mold but we used about 1 strawberry and 4 blueberries per section.
In a glass, combine 1 part Marquis with 1 part coconut water and a few dashes of lime juice to taste. Fill each mold with the mixture, being sure to leave about 1 centimeter of space to account for expansion after freezing. Place your popsicles in the freezer for at least 6 hours and follow the specific instructions for your molds for easy removal.
The second recipe is for those who want a sweeter treat with the ease of only three ingredients: strawberries, blueberries and Super Berry Marquis. For this funky and colorful look, you'll need to puree your berries or mash them after heating in a microwave. Whichever method you choose, make sure to keep the strawberries and blueberries separate! When filling the molds create layers of ingredients, starting with filling them up about half an inch with strawberry puree. Add another half-inch of blueberry puree and follow with about and inch of Marquis. Repeat this until your compartment is almost full and make sure to freeze for at least 6 hours.
Here are some easy tips to spruce up your popsicles:
Be careful when cutting your fruit. There aren't exactly wrong ways to do this but there are definitely more aesthetically pleasing ways, especially if you want the chic transparent fruit look. Try cutting strawberries in slivers with prominent white centers. Add whole berries like blueberries and raspberries in whole.
Keep it au naturale, especially when sweetening. For sweeter treats, try adding honey, a splash of organic juice, or heating your fruit a little bit. 
Don't be afraid of trial and error! Experiment with different flavors and ingredients until you find something that fits your pallet! Freeze your favorite smoothie for an icy twist on breakfast.
Go forth: make your own fruity popsicle creations and if you decide to give our recipe a try, make sure to share it with us and tag @drinkmarquis on Instagram.
PS: You can find our popsicle mold here.