Introducing: Lychee Peach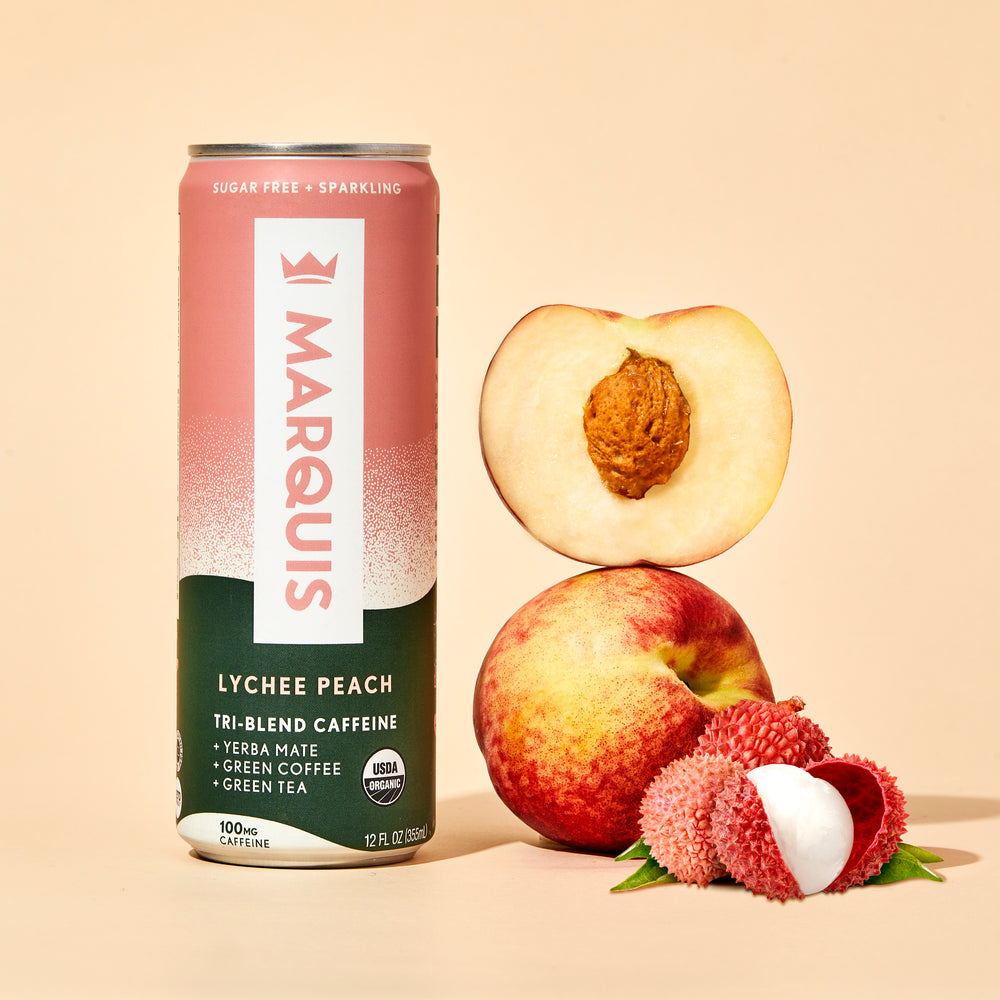 5 min read
Introducing: Lychee Peach
Where are you getting your mid-day pick-me-up? Coffee? A Red Bull? A brisk walk around the block? What if we told you there was a delicious, wholesome way of getting your daily dose of caffeine AND it tastes just like your favorite childhood drink? 
(Yes, friends. It's possible.) Allow us to introduce you to Lychee Peach: your new favorite reason for getting out of bed in the morning.
What Is Lychee Peach Made Of?
A hallmark of Marquis is our unique, tri-blend caffeine (yerba mate, green coffee, and green tea) …but you already knew that. What makes Lychee Peach different is its bright peachy flavor, designed to elevate both your energy levels and your taste buds. 
So, how do we manage that? Lychee Peach boasts a variety of plant-based, good-for-you ingredients: 
Carbonated filter water.

Yes, carbonated water is the #1 ingredient in our energy drink. How's that for being good for you? 

Organic erythritol.

This low-calorie sweetener is natural, doesn't cause side effects, and tastes almost exactly like sugar–without the calories. Sound too good to be true? Don't worry, it's not. 

Organic lemon juice (concentrate).

This is what gives Lychee Peach that irresistible tang. 

Organic peach and lychee flavor.

To capture that delicious lychee peachiness, we use flavor extracts from real plants. 

Organic monk fruit extract.

Another natural, zero-calorie sweetener that happens to also be high in antioxidants. And yes, it is an approved sweetener by the Food and Drug Association (FDA). 

Organic stevia extract.

This sugar substitute comes from the leaves of the stevia plant. It is intensely sweet yet contains no calories. 
Soooo… What Does this Healthy Energy Drink Taste Like?
If Lychee Peach is a healthy energy drink, then it can't taste very good. Right? Well, wrong. Lychee Peach is tropical, bright, and tastes miraculously like Peach Snapple. Let's talk about why. 
One of the drink's main flavors is lychee, which is a fruit not everybody is familiar with. For those who might not know, lychee is sweet with slightly floral and acidic notes. Think of it as tasting somewhat like a strawberry or pear with a hint of citrus. 
Next, blend the flavor of lychee with the juicy, sweet, somewhat tangy flavor of peaches, and voila—Lychee Peach is born. One sip of Lychee Peach Marquis is bright, refreshing, slightly tangy, and sweet all at once. Aren't you dying to try it?

Benefits of Lychee Peach
Marquis' Lychee Peach is caffeine with benefits. What do we mean by that? Well, Marquis energy drinks are a kind of clean caffeine that is actually good for you. 
First off, Lychee Peach uses natural, zero-calorie sweeteners (erythritol, monk fruit extract, and stevia extract) to provide a balanced lift without the crash. This means that you won't have to worry about empty calories or feeling sluggish. 
Additionally, all Marquis cans are equipped with our proprietary vitamin blend: 
Ascorbic Acid (Vitamin C)

Niacinamide (Vitamin B3)

Calcium-D-Pantothenate (Vitamin B5)

Pyridoxine Hydrochloride (Vitamin B6)

Cyanocobalamin (Vitamin B12)
Packed with all the essentials, this means one can of Marquis Lychee Peach will provide: 
100% of your daily dose of Vitamin C

100% of your daily dose of Niacinamide B3

100% of your daily dose of Vitamin B6

250% of your daily dose of Vitamin B12

100% of your daily dose of Pantothenic Acid B5
Best Peach Cocktails
Have you browsed our Marqology selection? By mixing a can of Lychee Peach with your liquor of choice, you can easily transform your Marquis into a happy hour aperitif. So, what's the best peach cocktail? Our favorite is a Marquis Bellini. 
To make a Marquis Bellini, combine 1 part Marquis Lychee Peach with 2 parts champagne. Mix it up, then garnish with a fresh slice of peach. Serve for brunch, dessert, picnics, and parties alike. 
Another one of the best peach cocktails is a Fresh Peach Margarita. To make, simply combine 2 parts of Tequila with ½ part orange liqueur, ½ part lime juice, 3 parts Marquis Lychee Peach, and a drizzle of honey. The result? A summer-y take on the classic Mexican drink that your taste buds are guaranteed to love. 
Another peach cocktail we love is the Peach Thyme Marquis Spritz. Sweet and tangy, this drool-worthy pairing tastes great with vodka and seltzer. Simply combine 2 parts vodka (or white rum, if that's what you're into) with 3 parts Marquis Lychee Peach, 1 part Aperol, and ½ part St. Germain. Don't forget to garnish with freshly sliced peaches and oranges (the more the merrier). 
Why Tri-Blend Caffeine is Better
Of course, a can of Lychee Peach isn't complete without our amazing tri-blend caffeine. Combining yerba mate, green coffee, and green tea, a can of Marquis provides a balanced lift that will get you through the day without crashing. How? Allow us to explain. 
To start, yerba mate is a trendy caffeine source originally coined as "the drink of the gods." Because its caffeine content averages about 80 milligrams of caffeine, it stimulates your senses while still being smooth. 
Secondly, green coffee beans are the seeds of coffee beans not yet roasted. Why? Well, the roasting process reduces the amount of chemical chlorogenic acid, which is an antioxidant linked to numerous health benefits. Not only that, but green coffee scratches that caffeine itch at a significantly lower dose.  
And finally, green tea caffeine is known for its amazing health benefits and medicinal properties. Packed with antioxidants, green tea is a staple in any healthy caffeine routine. 

Marquis is the Best Healthy Energy Drink
On the hunt for an energy drink that tastes good, is good for you, and comes in a multitude of unique flavors? Well, you found it with Marquis. We've perfected our unique tri-blend caffeine and combined it with delicious flavors and absolutely nothing bad for you. The result? A deliciously healthy energy drink that gives you that extra boost without the crash.

All right, we know. It sounds too good to be true. However, if you browse our drink selection today, you'll quickly find out it's not. (Promise.)
Sources
https://www.ncbi.nlm.nih.gov/pmc/articles/PMC8622869/
https://supplements.selfdecode.com/blog/chlorogenic-acid/
https://www.healthline.com/nutrition/top-10-evidence-based-health-benefits-of-green-tea