Erythritol vs. Sucralose: The Sugar-Coated Science Showdown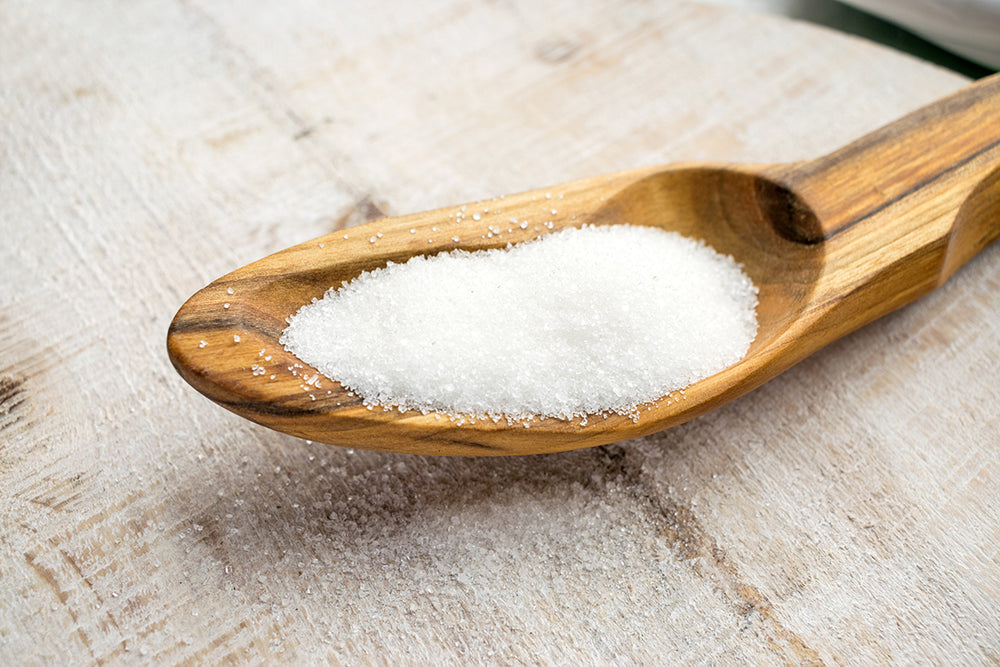 3 min read
Hey there, sugar lovers and skeptics alike! Are you baffled by sugar substitutes and their promises? Dive in with me as we decode the mysteries of Erythritol and Sucralose with a sprinkle of science! You can be the deciding factor on who wins this sweet-tooth battle as both go head-to-head in the ultimate sugar-coated science stand-off.
Erythritol: Nature's Sweet Surprise
In the lush orchards of natural sweeteners, erythritol sparkles like dew on a sunny morning. Hailing from the regal family of sugar alcohols, it's Mother Nature's own little secret present in some of our favorite fruits and fermented delights. What sets erythritol apart in this vast sweet kingdom? Its charm lies in its ability to mimic sugar's sweetness without piling on calories or spiking blood sugars. This quality makes it a darling for diabetics and everyone riding the health train. Some whispers even hint at its potential to be a dental superhero, fending off plaque and cavities. But remember, while nature's treats are splendid, enjoying them in balance makes the journey even sweeter!
Busting Erythritol Myths wide open!
As Erythritol gains traction in the world of sweeteners, it's no surprise that myths have started swirling around it. Here's what some of the research is telling us:
Myth 1: Erythritol Increases the Risk of Heart Attacks
The misconception here is tying Erythritol's sugar alcohol status with harmful alcohols. But guess what? A study from the European Journal of Clinical Nutrition in 2019 confirmed that Erythritol doesn't adversely affect heart health. In fact, it might even offer cardiovascular benefits by reducing artery stiffness.
Myth 2: Erythritol = Bad for Health Because It's Artificial
Ah, the "artificial" tag can be quite deceiving. Recent research in the Journal of Agricultural and Food Chemistry (2020) highlighted that Erythritol, while used as an artificial sweetener, originates from natural sources like fruits. Further studies have consistently found it to have no significant adverse effects on overall health.
Myth 3: Erythritol Causes Digestive Distress
This is a tricky one! While many sugar alcohols can cause digestive issues, Erythritol is often a kinder, gentler alternative. A study published in the Nutrients journal in 2021 found that, when compared to other sugar alcohols, Erythritol is less likely to cause gastrointestinal symptoms. However, it's important to note that individual tolerance can vary.
Myth 4: Erythritol Contributes to Weight Gain
There's a perception that all sweeteners can lead to weight gain due to increased cravings. However, a 2020 review in Food Science & Nutrition indicated that Erythritol, thanks to its near-zero calorie content, does not directly contribute to weight gain.
Always remember, the world of nutrition is ever-evolving, with new research emerging all the time. As of now, Erythritol seems to be a sweet spot in the alternative sweetener world, but it's always a good idea to consume it in moderation and stay updated with the latest research.
The Bitter-Sweet Truth of Sucralose
Enter sucralose – a sugar substitute that took the market by storm. Derived from sugar through a multi-step chemical process, it promises the sweetness we crave without the calories. Its immense popularity can be attributed to its stability: unlike some other sweeteners, sucralose doesn't break down when heated, making it ideal for cooking and baking. Plus, it's about 600 times sweeter than regular sugar, meaning a little goes a long way! But like everything that glitters, is it truly golden? Let's delve deeper.
Impact on Gut Health
A study published in the journal Frontiers in Physiology (2018) showed that sucralose consumption could alter the gut microbiota. It's essential to maintain a balance between beneficial and harmful gut bacteria for overall health. Disruption of this balance can potentially lead to digestive problems and other health issues.
Metabolic Effects
Cell Metabolism journal (2018) featured a study indicating that, although sucralose is calorie-free, it can have metabolic effects. The research hinted that sucralose might affect the body's insulin and blood sugar responses.
Bitter Taste for Some
Not everyone gets that pure sweet taste from sucralose. A 2019 study from Chemical Senses indicated that certain genetic variations can make people sensitive to a bitter taste when consuming sucralose.
Cooking with Sucralose? Think Twice!
When heated, sucralose can break down and produce potentially harmful substances. A 2013 study in the Journal of Toxicology and Environmental Health demonstrated that heating sucralose with glycerol (like in baking) might produce chloropropanols, compounds that raise some health concerns.
Weight Management Paradox
While many turn to sucralose to manage or reduce weight, its effects on appetite and satiety hormones are still under investigation. An interesting 2016 review in the International Journal of Obesity revealed that non-nutritive sweeteners (like sucralose) might not consistently aid in weight management and could even increase appetite in some cases.
Safety Threshold
Despite these concerns, it's worth noting that the FDA and other international regulatory bodies have deemed sucralose safe for consumption, setting an acceptable daily intake (ADI) for it. In other words, the FDA has given it the nod, just reminding us to keep it chill and within limits.
The Sweet Wrap-Up
In the grand showdown of sweet alternatives, both erythritol and sucralose have made compelling cases. Whether you're rooting for team erythritol, casting your lot with sucralose, or still perched on the fence, the mantra remains the same: moderation. Just as you'd savor that indulgent double-chocolate fudge cake slice by slice, it's crucial to be informed and appreciate these sweeteners in balance.
Now, a quick shoutout to Marquis. While we're discussing sweet alternatives, Marquis has chosen its champion: erythritol. Not only does this natural sweetener bring a delightful taste to the party, but it aligns perfectly with Marquis' philosophy. You see, Marquis believes in moderation: a balanced caffeine kick and zero grams of sugar. The brand gracefully sidesteps artificial sweeteners, presenting a refreshing alternative for various moments throughout your day.
So, there you have it… Erythritol, sucralose,each bringing their unique sweetness to the table. Thanks science! Dive in, explore, and find the sweetness that resonates with your palate and lifestyle.