Citrus Yuzu: The Only Healthy Caffeinated Drink You'll Ever Need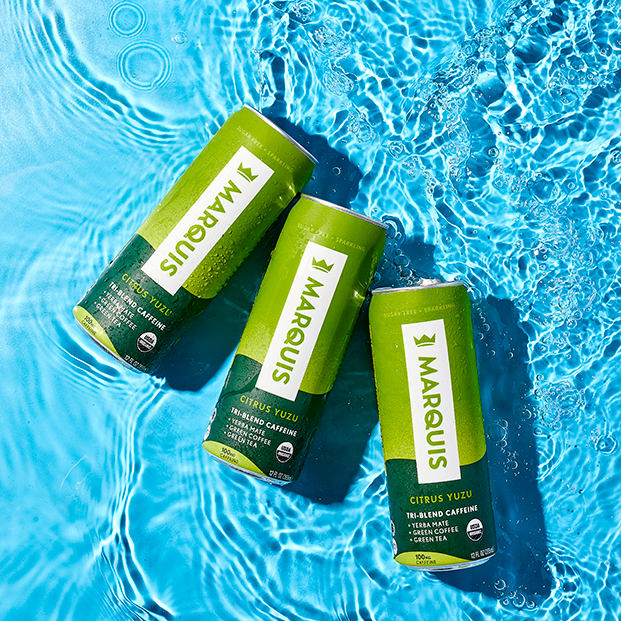 5 min read
On the hunt for a healthy caffeinated drink that actually tastes good? Quit scouring the grocery store shelves and get your hands on Marquis Citrus Yuzu. 
Refreshing, zesty, and completely addicting – one sip of this OG Marquis flavor will taste like a crisp gulp of lime soda (without all the sugar, additives, and acids).  
If you've already tried the Marquis Citrus Yuzu, then you know what we're talking about. If you haven't, well, we're going to try and convince you in today's blog post… Stay tuned! 

What is Citrus Yuzu Made Of?
Excellent question, my friend! Citrus can mean a lot of things, so what is it? Lime? Lemon? Grapefruit? Orange? Tangerine?
Our drink is made to reflect the zesty-ness of yuzu, lime, and tangerine. Aside from our tri-blend caffeine, this bestseller features a bunch of plant-based, guilt-free ingredients to achieve that mouthwatering flavor. Here are the ones worthy of note: 
Carbonated filter water.

The reason this caffeinated drink is so healthy? Its #1 ingredient is carbonated filter water. 
Organic erythritol.

This naturally occurring sugar is derived from non-GMO corn. It is about 70% as sweet as regular sugar yet has 0% of the calories. A lot of folks say organic erythritol is the perfect "natural" zero-calorie sweetener because it is a) tooth-friendly and b) well tolerated in the digestive system. 
Organic lemon juice.

What citrus drink doesn't have a bit of lemon zest in it? At least that's our philosophy anyway. 
Organic citrus, yuzu, and tangerine flavors.

Spoiler alert! All our flavor extracts come from REAL plants. That way, you're guaranteed delicious, natural flavor. 
Organic monk fruit extract.

We probably don't have to tell you that sugar isn't

great

for your health and well-being. That's why Marquis healthy energy drinks opt for alternative sweeteners!

Monk fruit sweetener

contains zero calories yet is 100-250 times sweeter than regular old sugar. The best part? It's also considered to have antioxidant properties. 
Now Tell Me: What is a Yuzu?
It's fair to say that most people don't know what the yuzu fruit is. If that sounds familiar, don't sweat. The yuzu is a bit unconventional in the Western dining scene (however, it won't be for long). 
Originating from China or Korea — yet associated most often with Japanese cuisine — the yuzu is a hybrid citrus fruit that is both fragrant and sour. Somewhat of a cross between a papeda and a mandarin orange, it looks kind of like a tangerine. Also, because yuzus typically have less juice than other citrus fruits, they are more expensive than say lemon or an orange. 
So, what does the yuzu fruit taste like? 
… Well, aren't we glad you asked! Yuzu is incredibly sour and tastes a bit like a tangy lemon crossed with a bitter grapefruit and a sweet orange. Its flavor profile has both floral and herbal notes, and it packs a powerful aroma that yields a zesty, honeysuckle-like fragrance. 

What Does Marquis Citrus Yuzu Taste Like?
Alright, we know what you're thinking. No healthy caffeinated drink tastes good, right? In the world of Red Bulls and the Caramel Frappuccino, we've all been taught that unhealthy drinks taste delicious and the healthier versions taste, well, not as delicious. 
… Of course, this was before you got your hands on Marquis Citrus Yuzu. 
Encapsulating the multifaceted flavor of the yuzu, this energy drink is zesty, somewhat sour, and incredibly refreshing. We like to compare the flavor of Citrus Yuzu to a Fresca or Squirt Soda (but of course, without all that added stuff you don't want). 
Benefits of Citrus Yuzu
This healthy caffeinated drink is better than the rest. Why? Well, each can features a variety of health benefits. 
First off, by using zero-calorie sweeteners and natural flavoring, you don't have to worry about the dreaded sugar crash that accompanies other energy drinks. However, the perks don't stop there.  
Marquis infuses our proprietary vitamin blend into each can. That way, your daily caffeine fix will also include a hefty dose of: 
Ascorbic Acid [Vitamin C]

Niacinamide [Vitamin B3]

Calcium-D-Pantothenate [Vitamin B5]

Pyridoxine Hydrochloride [Vitamin B6]

Cyanocobalamin [Vitamin B12]
In other words, each can of Citrus Yuzu Marquis will supply:
100% of your daily dose of Vitamin C

100% of your daily dose of Vitamin B3

100% of your daily dose of Vitamin B5

100% of your daily dose of Vitamin B6

250% of your daily dose of Vitamin B12
… And we manage to do so using: 
Zero calories

Zero grams of total sugars

Zero grams of net carbs

Zero grams of total fat

Zero milligrams of sodium 
How's that for good for you?  
Best Citrus Cocktails
If you're headed out for a night on the town, Marquis Citrus Yuzu has got you covered. Aside from being your morning pick-me-up, this caffeinated drink is ideal for making nutritious, adult-only concoctions. 
One of our favorites? The Marqito. Combine two parts rum with 3 parts Marquis Citrus Yuzu for an already energetic cocktail that comes with an additional kick. Oh, and then remember what Mojito maven Ernest Hemingway once said: 
"Always do sober what you said you'd do drunk. That will teach you to keep your mouth shut!" 
Not a Mojito fan? No problem. The Marqosmo is a Cosmopolitan variation made with 2 parts vodka, 3 parts Marquis Citrus Yuzu, and 1 part cranberry juice. (Also very yum.) 
Want more cocktail inspiration for your Citrus Yuzu? We've got plenty. Check out the Marqology section on our website and let us know your top picks! (Or, if there's anything drool-worthy we forgot.)  
Best Healthy Caffeinated Drink 
Well, there you have it. Marquis Citrus Yuzu is one of the best caffeinated drinks out there (and no, we're not just saying that because our marketing guy told us to). 
Made with our unique tri-blend caffeine, Marquis is designed to provide a balanced lift without the crash. Combining natural, delicious flavors with absolutely nothing bad for you, our caffeinated drinks truly are one for the books. 
… But don't just take our word for it! 
Browse our drink selection and test them out for yourself. Then, we'd love to hear what you think.  
Sources
https://www.healthline.com/nutrition/monk-fruit-sweetener