Artificial caffeine: Pros and Cons in Energy Drinks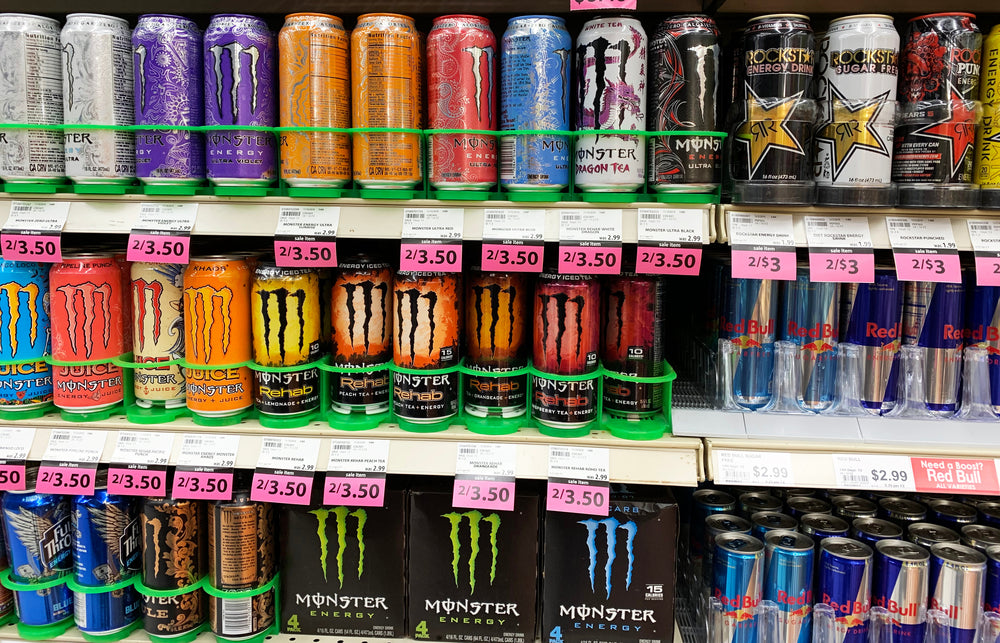 3 min read
Artificial caffeine: Pros and Cons in Energy Drinks
Energy drinks have become a popular choice for those seeking a quick energy boost, with many containing artificial caffeine as a key ingredient. Taurine, for example, is a common component found in several energy drinks such as Red Bull, Monster, and Celsius. This amino acid has been linked to several health benefits, including improved athletic performance and heart health. However, the presence of artificial caffeine in energy drinks raises questions about their overall impact on our health and well-being. This blog aims to explore the pros and cons of artificial caffeine in energy drinks, helping consumers make informed decisions about their consumption.
Pros
One of the main advantages of artificial caffeine in energy drinks is the rapid energy boost that it provides. Many people turn to energy drinks containing taurine, like Red Bull, Monster, and Celsius, as a source of quick and convenient energy when they need it most. This boost in energy can help improve focus and alertness, which can be particularly helpful during long workdays, intense study sessions, or demanding physical activities. Additionally, the combination of artificial caffeine and taurine has been shown to improve reaction times and cognitive performance, providing an added advantage for those in need of a mental lift.
Cons
However, there are also several downsides to consuming energy drinks with artificial caffeine. One of the main concerns is the potential for increased heart rate and blood pressure, which can be dangerous for those with pre-existing heart conditions or sensitivities to caffeine. Additionally, consuming large amounts of artificial caffeine can lead to increased anxiety, irritability, and even insomnia. Overconsumption of energy drinks may also lead to dependence on artificial caffeine, causing individuals to experience withdrawal symptoms when they attempt to cut back or quit drinking these beverages. Furthermore, some studies have suggested that long-term consumption of energy drinks containing taurine and artificial caffeine can lead to an increased risk of developing chronic health conditions such as obesity, type 2 diabetes, and even liver damage.
Moderation is key when it comes to enjoying the benefits of energy drinks while minimizing the potential negative impacts on our health. It is crucial for consumers to be aware of the potential risks and make informed decisions about their consumption of energy drinks containing artificial caffeine and taurine. Ultimately, it is up to individuals to determine whether the benefits of artificial caffeine in energy drinks outweigh the potential drawbacks and decide if they are an appropriate choice for their lifestyle and health needs.
What is Taurine?
Taurine is a naturally occurring sulfur-containing amino acid. It's particularly concentrated in your brain, eyes, heart, and muscles. Although amino acids are often referred to as the building blocks of protein, taurine isn't used to build proteins in your body. Instead, it's considered a conditionally essential amino acid, meaning it becomes essential only in times of illness and stress
Negative Effects of Taurine Consumption: What You Need to Know
Taurine, an amino acid found in many food products and supplements, has gained popularity in recent years due to its numerous health benefits. However, despite its wide use, there have been concerns about the potential negative effects of taurine consumption. It is essential to be aware of these side effects and consider possible alternatives to ensure that you maintain a healthy lifestyle.
One of the primary concerns with taurine consumption is its presence in energy drinks and supplements. High levels of taurine, combined with other stimulants such as caffeine, can lead to increased heart rate, blood pressure, and the risk of developing heart disease. Some studies have also suggested that excessive taurine consumption may be linked to kidney damage and an increased risk of developing type 2 diabetes.
When considering alternatives to taurine, it is essential to understand the specific reasons for which you are consuming this amino acid. If you are looking for improved athletic performance, there are numerous alternatives available, such as creatine and beta-alanine. These supplements have been shown to improve muscle strength and endurance without the potential negative effects associated with taurine consumption. Additionally, for those seeking enhanced cognitive function, ginkgo biloba and phosphatidylserine are popular alternatives that support brain health.
In conclusion, while taurine may provide some health benefits, it is crucial to be aware of its potential negative effects, especially when consumed in excessive amounts. It is essential to monitor your taurine intake and consider alternatives if necessary to ensure that you maintain a healthy lifestyle. Always consult with a healthcare professional before making any changes to your diet or supplement regimen.
Exploring plant-based caffeine alternatives: A guide to healthier options
In recent years, there has been a growing interest in plant-based caffeine alternatives, as more and more people are becoming aware of the possible health benefits associated with these natural stimulants. From green tea to yerba mate, these alternatives can provide a healthier way to get your daily caffeine fix without relying on traditional sources such as coffee or energy drinks. This guide will explore some popular plant-based caffeine sources and their potential health benefits, helping you make an informed choice when looking for a more natural energy boost.
Yerba Mate Extract
One of the most popular plant-based caffeine alternatives is yerba mate, a traditional South American beverage made from the dried leaves of the Ilex paraguariensis plant. Yerba mate is known for its unique flavor profile, which combines the smoothness of green tea with the boldness of coffee. But aside from its taste, yerba mate benefits extend to its rich composition of beneficial compounds, such as antioxidants, vitamins, and minerals. These nutrients not only promote overall health but also provide a gentle and sustained energy boost, making yerba mate an ideal choice for those looking to cut back on their caffeine intake without experiencing withdrawal symptoms.
Proprietary Organic Tri-Blend Caffeine
Another noteworthy plant-based caffeine alternative is blending yerba mate, green coffee, and green tea. Marquis contains only 100mg of caffeine per serving, making it a potent natural source of energy. This level of caffeine is roughly equivalent to that of a standard cup of coffee, ensuring that you'll get the boost you need without having to resort to artificial stimulants. Additionally, Marquis contains antioxidants, more vitamin C than an Orange, and daily B vitamins that make it an excellent option for those looking for a balanced lift throughout their day.
In conclusion, plant-based caffeine alternatives offer a diverse range of options for those seeking a healthier and more natural way to stay energized. With the yerba mate benefits and the potency of 100mg caffeine in a 12 oz can of Marquis, these alternatives provide not only a stimulating effect but also additional health advantages, making them a great choice for those looking to improve their overall well-being. By exploring and incorporating these natural sources of energy into your daily routine, you can enjoy the benefits of caffeine without the potential drawbacks of traditional caffeinated beverages.